What to Consider Before Buy a Computer Speaker ??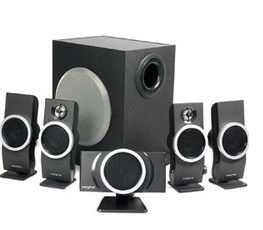 If you are going to buy computer speakers, you also need to consider these features for freedom and flexibility.

- Headphone jacks : If you want to listen music without disturbing others, this feature is the answer.. just plug your headset or headphones into the jack and you can listen your musics via headphones.
- Surround sound : Computer speakers with surround sound is also great for movies, home theater systems or for gaming.
- Works wirelessly : The manufacturer usually packs the best computer speakers with wireless capabilities so you can stream music from online services or listening the musics with other devices using Bluetooth. Most speakers also compatible with Apple's airplay too. Wireless computer speakers are versatile, you can easily move it around the room.
iPhone/iPad compatibility
If you have Apple's devices like iPhone, iPad or iPod, Make sure the speakers also compatible with these devices. In case the speaker you want doesn't support Apple devices and can't play music from iTunes, consider to buy Apple's AirPort Express router so you can make them connect to the computer speakers via 3.5mm jack. There are also speakers with iPhone / iPad dock so you can connect and play musics directly to the speakers

Do you need subwoofer ??

Just ask your self first.. do you need this additional feature ?? If you want more bass or volume in your music or enhance the quality of your music you need to add a subwoofer on your speaker system.

Overall, speaker is an important accessories for any computers because you can enjoy musics, watching movies, gaming or any multimedia content from the Internet. You can use these guides before you buy the right ones for your needs.